As rates rise, housing markets show no sign of distress
Michael Bleby| 6 September 2022| Australian Financial Review
As rates rise, Australian housing market shows no sign of distress (afr.com)
Australia's housing market is showing no sign of distress even as the benchmark lending rate rises to a seven-year high, with the number of homes on the market falling in August, indicating owners are under no pressure to sell in a falling market.
Residential listings fell 3.5 per cent to 228,295 and new listings – of homes on the market for fewer than 30 days – slipped 1.9 per cent, unusually for August, which typically marked the start of the spring selling season with an increase, SQM Research managing director Louis Christopher said.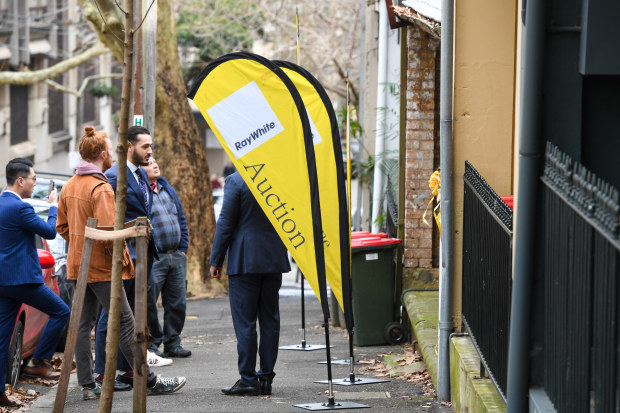 The Reserve Bank of Australia made its fifth straight increase on Tuesday, raising the cash rate to 2.35 per cent and saying it expected further increases based on inflation, the labour market and other data.
Higher borrowing costs were keeping would-be buyers out of the market and making it harder for people to meet mortgage commitments, but there was no sign rising rates were tipping owners into distress and forcing them to sell, Mr Christopher said.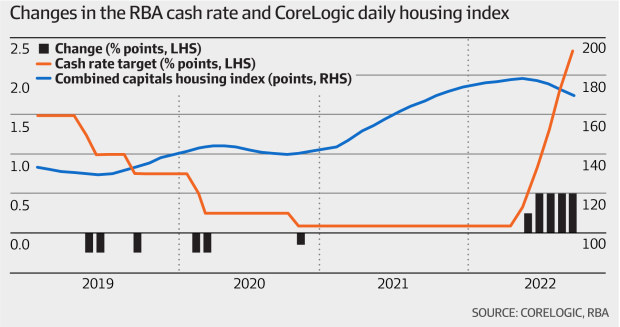 "The interest rate rises are definitely deterring buyers, but sellers are also being deterred from listing," he told The Australian Financial Review on Tuesday.
"Vendors are not really keen to list in this marketplace. There are no signs of any dramatic uplift in distressed sales."
The extra costs of the central bank's incremental cash-rate rises – which comparison website Finder.com said had pushed up the average cost of a mortgage by $801 since April when the benchmark rate was 0.1 per cent – are slowing the east coast-dominated housing market.
Last week a three-bedroom, two-bathroom terrace house with car park in inner-Sydney's Paddington sold for $3.5 million, less than the $3,715,000 the neighbouring, similar property sold for at the end of March.
The general rule of thumb is a 10 per cent reduction from the fall in prices we've seen in February-March.

— Bresic Whitney agent Maclay Longhurst
The number of people coming to inspect the 192 Jersey Road house was lower than anticipated, but the owners, upsizing to a larger house, were keen to sell, Bresic Whitney sales agent Maclay Longhurst said.
"The vendors were happy to meet the market at $3.5 million," Mr Longhurst said.
"Most owners on the market now typically have some sort of motivation – they're upsizing, downsizing or they've got some other motivation to be selling. They're not opportunistic sellers."
Speaking ahead of Tuesday afternoon's 50-basis-point increase in the cash rate, Mr Longhurst said a further rate rise would reduce buyers' capacity to spend on housing, but not necessarily pull prices lower.
"The general rule of thumb is a 10 per cent reduction the fall in prices we've seen in February-March," he said.
Many people expect housing prices have further to fall, however. Mr Christopher said housing prices in Sydney and Melbourne had already fallen 7-8 per cent from their peaks this year and were likely to decline further to 13 per cent by year-end in Sydney and 9 per cent in Melbourne.
The biggest factor at play will be inflation. If it forces the RBA to raise the cash rate to 4 per cent, lifting the average variable rate to about 7 per cent, that would lift borrowing costs to levels that would be beyond many borrowers' capacity to pay, Mr Christopher said.
"If we go over 7 per cent that's uncharted water for borrowers and banks," he said.
"That would be where we see rapid increase in forced sales activity."
https://originfinance.com.au/origin/wp-content/uploads/2019/12/woman-in-blue-floral-top-sitting-while-using-laptop-806835-scaled.jpg
1707
2560
Graeme Salt
https://originfinance.com.au/origin/wp-content/uploads/2014/12/origin-finance-logo.jpg
Graeme Salt
2022-09-08 16:37:40
2023-05-22 15:19:26
As rates rise, housing markets show no sign of distress