Home loan restrictions 'torturous', CEOs say
Matthew Cranston| Australian Financial Review|26 September 2019
https://www.afr.com/policy/economy/property-lending-restrictions-torturous-chief-executives-20190926-p52v1y
The chief executives of Australia's biggest real estate companies are backing the government's calls to break overly stringent lending restrictions to get credit flowing again and avoid a dangerous slowdown in construction.
Speaking at The Australian Financial Review Property Summit in Sydney, the CEOs also demanded that the government start to act on measures to stimulate business investment and cut red tape estimated to cost the sector $176 billion a year.
With financial markets pricing in a 70 per cent chance of a 0.25 percentage point rate cut this Tuesday to 0.75 per cent, pressure is building on banks and regulators to start freeing up credit.
Mirvac chief executive Susan Lloyd-Hurwitz said Treasurer Josh Frydenberg's warning on Thursday – that responsible lending laws were being applied too stringently and would hit the property market – were accurate.
"Credit is flowing but it's very painful for customers. It just takes so long," Ms Lloyd-Hurwitz said, revealing that she had first-hand experience of the difficulties in securing a loan after buying a property at Mirvac's Eastbourne development in Melbourne.
"Personally I just settled myself and it was a very painful process. It's torturous.
"People tell us about being assessed on how many coffees they drink. It can get nonsensical about how much scrutiny there is."
The chief executive of Australia's largest listed property developer, Stockland's Mark Steinert, said regulators were not interpreting the law correctly when assessing the way banks tried to lend.
He said ASIC's decision to appeal against the infamous "wagyu and shiraz" court case it lost against Westpac after alleging the bank breached responsible lending was "really problematic".
"As the treasurer said, caveat emptor … We need to allow judgment in lending if we want the capital system to work efficiently," Mr Steinert said.
Credit history
"Credit history in Australia is very good, some of the lowest credit loss ratios in the world."
Ms Lloyd-Hurwitz said that without credit flowing again, Australia could find itself with a housing shortage within a year, echoing concerns from the Reserve Bank.
"Very soon we are going to be in a supply shortage situation," she said.
Mr Steinert agreed. "We need 180,000 dwellings a year to keep up with demand, and it's not going to happen."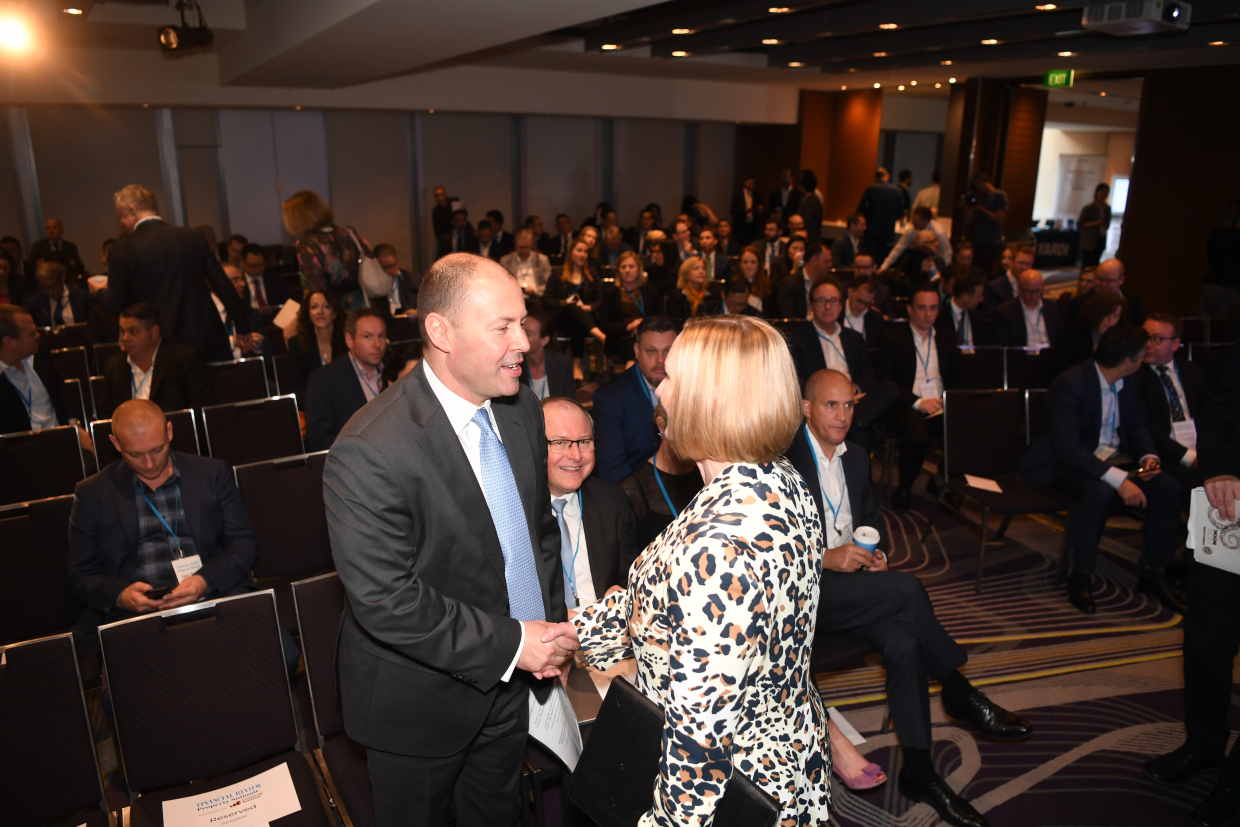 He said there was "virtually no capacity for mid-tier developers", adding that huge red tape constraints in the order of "$176 billion" were hindering development and this would flow through to construction activity within 12 months.
The value of total construction work was down 3.8 per cent in the June quarter to $48.8 billion. It has triggered warnings from economists about weaker GDP.
Reserve Bank governor Philip Lowe said the construction downturn could lift property prices, which have already risen 1.9 per cent in Sydney in three months.
"It seems to me quite possible that we could have a period now of rising housing prices because construction activity is slowing while the population is still rising quite quickly the world. So there are some underlying drivers of housing prices."
The Treasurer and Prime Minister Scott Morrison have warned banks not to be too "sheepish" and to do away with an "instinctiveness" towards overly tough lending standards.
On Thursday, Mr Frydenberg told the Summit he expected banks to pass on any interest rate cut that might be delivered this Tuesday.
"My message to them is to cut as much as you can. The RBA governor is saying that they should. I think banks pay attention to those comments," he said.
Home lending has started to rise again, picking up 5.1 per cent in July, marking its biggest monthly gain in four years, but system lending is still much lower than the double-digit growth the banks were reporting last year.
Regulations such as the 10 per cent cap on investor lending growth, the 30 per cent cap on interest-only loans and the 7 per cent serviceability buffer have been lifted in the past year, helping to turn this around.
While the government has been pushing for credit growth, it has also been urging greater business investment.
Call for genuine incentives
However, the chief executive of the country's biggest office landlord, Dexus' Darren Steinberg, reacted to the investment calls by suggesting that the government deliver genuine incentives.
Evoking Donald Trump's tax cut incentives that attracted significant investment from Australia's richest person Anthony Pratt, Mr Steinberg said tax breaks were overdue.
"It's a real shame that the government's proposed corporate tax cuts a year or so ago were abandoned because of political pressure.
"Hopefully, the governments work together to ensure there's some kind of physical incentive for businesses to spend more money in Australia."
He said that in terms of the federal government's mooted business investment allowance, there was already plenty of competition from overseas.
"Singapore and Hong Kong government's huge tax rebates very strongly attract Australian businesses out there. And it's fierce competition. But we haven't woken up here."
"Our customers have choices where they can allocate their money to the west coast of America rather than Australia," he said."
https://originfinance.com.au/origin/wp-content/uploads/2014/12/origin-finance-logo.jpg
0
0
Graeme Salt
https://originfinance.com.au/origin/wp-content/uploads/2014/12/origin-finance-logo.jpg
Graeme Salt
2019-09-27 20:12:16
2019-09-27 21:13:54
Home loan restrictions 'torturous', CEOs say