Property recovery starts in Sydney, Melbourne
Ingrid Fuary-Wagner| Australian Financial Review|1 July 2019
https://www.afr.com/real-estate/residential/property-recovery-starts-in-sydney-melbourne-20190627-p52202
Property price growth in Sydney and Melbourne is in positive territory for the first time since the market peaked in 2017, as lower mortgage rates and improved buyer sentiment in combination with a dearth of new listings spurs a market recovery.
Values grew slightly by 0.2 per cent in Melbourne and 0.1 per cent in Sydney over the month of June, in line with the trend of falling home values consistently reducing over the year to date.
Nationally, property values recorded a 0.2 per cent fall in June, the smallest monthly decline since March 2018, according to the latest figures from CoreLogic's Hedonic Home Value Index.
"This is really a turning point for Sydney and Melbourne," CoreLogic head of research Tim Lawless said.
"I think we will see Sydney and Melbourne continue to see a mildly positive change through winter and probably into spring as well, but I don't think we will see a material or rapid rebound in either of those markets, simply because we are seeing credit conditions are very tight and affordability constraints in those markets are still an impediment to buyers."
Low levels of new stock on the market has meant more competition in the past month between buyers, previously waiting on the sidelines, who have since been encouraged by last month's interest rate cut and the re-election of a Coalition government that meant no changes to negative gearing and capital gains tax.
Harry and Mona Grammatikogiannis, two homeowners keen to take advantage of the dearth of new listings, last week put their five-bedroom home in Sydney's outer south-west suburb of Middleton Grange on the market.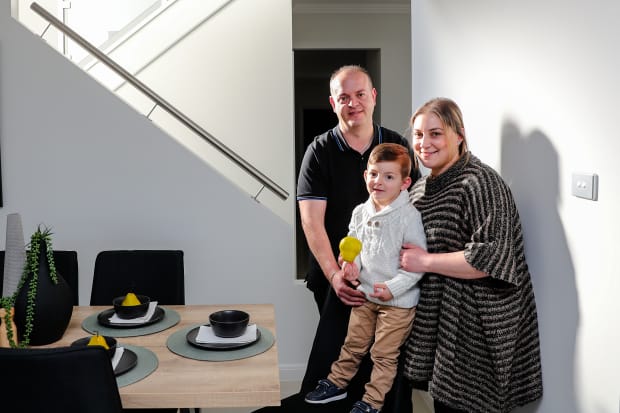 "I want to trade up on my property before prices become out of reach again and I think this is an opportune time to sell because there aren't many homes on the market and I've seen some solid sales results," Mr Grammatikogiannis said.
They bought their block in 2012 in what was then a new masterplanned community and despite prices recently falling in the region by about 12 per cent, they have been beneficiaries of the huge price boom before that. The home has a price guide of between $1 million and $1,050,000.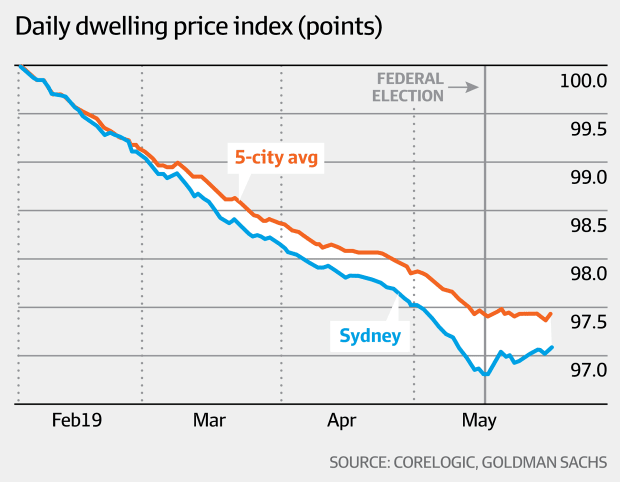 "We heard from our colleagues straight after the election that they were starting to see more activity in areas like the Sydney's inner west and eastern suburbs but now we are starting to see the knock-on effect," selling agent Nick Rigas, of The Agency, said.
However, the positive news did not resonate across the other capital cities; property values fell 0.9 per cent over the month in Canberra and Darwin, 0.6 per cent in Brisbane, 0.7 per cent in Perth and 0.5 per cent in Adelaide. Prices in Hobart grew by 0.2 per cent.
Westpac senior economist Matthew Hassan said the weakness across the other capital cities "took some of the gloss off" the improvements in Sydney and Melbourne. The bank expects property prices to remain patchy in 2019.
"The contrasting performance of the major cities may be an indication that swings in investor demand around the federal election have been key – this segment tends to be more active in Sydney and Melbourne – and that other factors such as those around affordability, credit availability and borrowing capacity may still be weighing on owner-occupier demand," Mr Hassan said.
Economic factors not as strong elsewhere
The latest housing credit figures show growth slowed to just 3.7 per cent over the year to May, the lowest since Reserve Bank records began in 1976.
"Unemployment outside of NSW and Victoria is generally above 6 per cent and jobs growth is quite mild, so it really does reflect the fact that economic conditions across the smaller capital cities and regional markets just aren't as strong as they are in Sydney and Melbourne," Mr Lawless said.
Sales results from June show last month was the strongest for auctions in Sydney since September 2017 and February 2018 for Melbourne, according to economist Shane Oliver of AMP Capital.
"There is a lot of stock but the difference would probably be there is not much new stock hitting the market and I think that's what real estate agents are finding really difficult about the market is attracting the new listings and offloading the listings that are getting quite stale," Mr Lawless said.
Mr Lawless said the first signs of a recovery in Sydney and Melbourne was the result of a combination of factors.
"We had seen the market improving before the election and the rate cut came through, so that was a case of an improvement to affordability but also we were seeing some early signs that credit was starting to stabilise, so I think that was very much an organic improvement prior to the federal election but since then it's been very positive."
https://originfinance.com.au/origin/wp-content/uploads/2014/12/origin-finance-logo.jpg
0
0
Graeme Salt
https://originfinance.com.au/origin/wp-content/uploads/2014/12/origin-finance-logo.jpg
Graeme Salt
2019-07-13 17:48:32
2019-07-13 18:46:06
Property recovery starts in Sydney, Melbourne